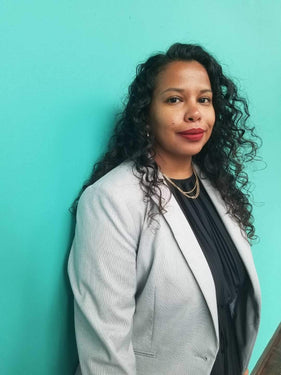 Wendy Garcia is a Honduran-Mexican-Afro-Latina born and raised in Santa Ana, CA. She is a Legal Assistant by day and an underground ninja artist by night. Wendy explores the topics of female empowerment, female spaces in worlds of abuse, and sexual exploration through art therapy and poetry. Her thought-provoking collection of acrylic paintings, drawings, digital-art and poetry, BendyWendyArt, explores the experiences, desires, secrets, dreams and nightmares of those who hide in corners, run from shadows, live in silence and unapologetically make noise.
Wendy's poetry is currently featured in the LatinX Poetry Project anthology.
When did your love for poetry begin?
I have been chasing rabbit holes since I was eight. I saw, heard, and felt things I did not understand so I wrote them down.
Tell us more about your poem, Mango Dream and The LatinX Poetry Project.
I wrote a poem about the cycle of domestic abuse called Mango Dream. Reading the words from this anthology only affirmed my belief that our communities stretch to the depths of the unknown. We are everything.  
As an Afro- LatinX writer, what is something you hope your readers learn from you?
The LatinX community cannot and will not be defined by any dictionary or scholar. Men may have conquered land, but they have not conquered our minds.
Wendy wrote a powerful piece about the AfroLatinX experience for ALEGRIA Magazine. In that, she writes:
"What does it mean to be an Afro LatinX person in the U.S? It's painful. It's heavy. It's a beautiful and lonely journey. I feel that I do not belong anywhere, but history teaches us that we belong to many worlds at once. Many people still believe that all brown and black people are the same and if we fall short from their sad-pathetic depiction, we are erased, ignored, discriminated against, mocked and sometimes killed."You can read more here.
Follow Wendy at @bendywendyart
The Spiritú Four
I never leave the house without
My backpack. I usually carry a backpack and not a purse. If the place I am going to won't allow a backpack, then I conform to society's standards and bring that big fancy pocket with a long handle.
I most overuse the phrase
"Right on."
The person I most admire is
My best friend Glenda M. Flores who is an Associate Professor for the Chicano/Latino Studies department at the University of California Irvine. She has been representing the LatinX community since the day I met her. Sure at 12 or 13 she did not know it,
My Spiritú is
An elusive mermaid who avoids humans and explores the depths of darkness.
Share This Story
---