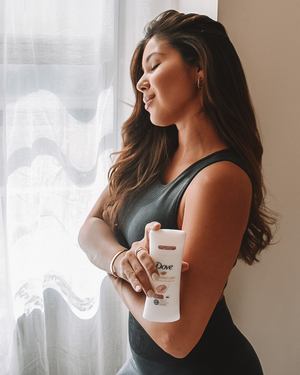 #Sponsored by Dove
If you're like us, you know that finding the perfect antiperspirant is like striking gold. As busy women on the go, we need protection from sweat and odors. But, we also need to feel soft and protected.
That's why we were so excited to partner with Dove to try their newly formulated Dove Advanced Care Antiperspirant. It provides effective 48-hour protection and is kind to your skin. The new formula contains Dove's signature 1/4 moisturizers infused with natural oil to care for your underarm skin, leaving you with soft and comfortable underarms.
We love that these antiperspirants combine long-lasting antiperspirant protection and the latest skincare technology, so you don't have to choose between an antiperspirant that works and an antiperspirant that's gentle on your skin. It's literally the best of both worlds, and we're obsessed! We tried their Rose Petals and Cool Essentials scents, and loved them both.
As part of our VIP Product Program, a select group of women in our community were also able to try Dove Advanced Care's new formula. Here's what some of them had to say!
I just received the [Dove Advanced Care Antiperspirant in Rose Petals] and it was great. Application was nice and it smelt amazing. I am soo picky with smells and you guys nailed it. I usually use Lady Speed Stick but this will now be my go to. Definitely going to recommend my family to this!!! - Alexandra B.
I love the smell and I love the protection. - Glenda C.
I love the scent and it works great for me. -Yolanda R.
[Dove Advanced Care Antiperspirant in Rose Petals] applies very well on my armpits, is very soft feeling, and smells very good . . . I love how it leaves my armpit super soft and no bad smell and it lasts the whole day. - Katii
I received the [Dove Advanced Care Antiperspirant in Cool Essentials] Very good product. Smells wonderful and works great. - Yvette F.
I love this new antiperspirant, the cucumber scent is amazingly delightful. - Yoli
Shop Dove Advanced Care Antiperspirant in Rose Petals here and in Cool Essentials here.
Share This Story
---