Paula Santamaria currently serves as the Business Operations Specialist for the Software Engineering Team at HP. Paula immigrated from Colombia with her family at the age of ten; she lived in New Jersey for five years and then moved to Houston in 2007. She finished high school and obtained a full-ride scholarship at the University of Houston for pre-law. In 2014, two years after becoming a U.S. citizen, Paula was recruited by The White House to serve as a Political Appointee in the Obama Administration. Paula first served as the Special Assistant to the Chief of Staff at the National Endowment for the Arts, and after being recognized, personally, by President Obama for her work, she transitioned to serve as the Special Assistant to the Executive Director at the Inter-American Development Bank. Paula has actively been involved with various political campaigns and nonprofits. She currently serves as a mentor, and school speaker for Project Grad, and has founded the first LatinX ERG at HP, Inc.

Paula has a BA in Political Science and Marketing from the University of Houston, and plans on applying to MBA programs in the coming years.
THE SPIRITU 4
I NEVER LEAVE THE HOUSE WITHOUT MY:
I MOST OVERUSE THE WORD OR PHRASE:
"Where there is a will, there is a way"
THE PEOPLE I MOST ADMIRE ARE:
My motivation to keep going through adversity
HEAD, HEART, STOMACH, & FEET
MY FAVORITE AFFIRMATION IS:
Everything happens for a reason
MY FAVORITE CHILDHOOD SNACK:
I'D WALK 5,000 MILES TO GET TO:
How does where you come from impact where you're going?
My family was forced to flee our motherland, Colombia, when I was 10 years old. Like many families today in the caravan, we sought asylum because we were not safe back home. We were lucky to have been granted the status, but rebuilding our lives without any of our belongings was very hard. However, this is when I learned that things are simply things, and nothing matters more than your family and your health.

After 8 years, right before president Obama's reelection, we became citizens. And just two years later, during my senior year in college at the University of Houston, I was recruited by the White House to serve the Obama Administration. I get emotional just thinking about the fact that my grandparents left their villages with nothing - sometimes not even shoes - and then got educated, became doctors and lawyers, and paved the way for my parents to pursue their dreams, and ultimately for me to pursue my dreams. For me to be standing in the Oval Office with President Obama thanking me for my service is truly unreal.

Now, I am back home in Houston, TX working in Tech at HP, Inc. From these experiences, I have learned that nothing matters more to me than being able to give back and help others find new opportunities.

Wow, what a journey! Can you tell us some things about you that no one might know?
I am actually an introvert even though most think I am an extrovert! I need alone time to decompress. These days, I am also so proud of the progress that I have made.

Your story is truly inspirational. How do you keep your life in perspective?
I think about all of the sacrifices that my parents and other ancestors made in order for me to be where I am. I am passionate about serving the community and helping other young people of color find their paths in high school, and beyond.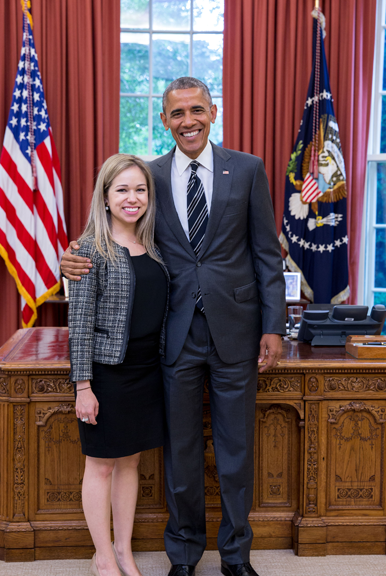 Share This Story