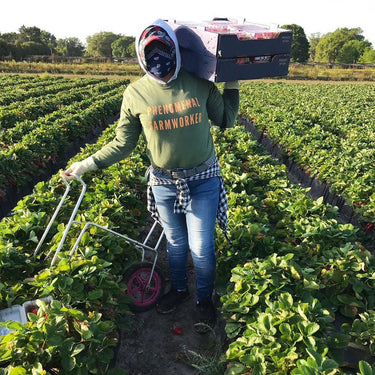 This pandemic is a scary time for everyone across the world, but especially for underserved communities. We've put together a list of organizations who are doing important work to provide direct relief for the hardest hit communities during the COVID-19 crisis. Learn more below.
1. Feeding America
As the COVID-19 pandemic continues, Feeding America is committed to serving communities and individuals facing hunger across America, wherever they are. Every dollar raised from the COVID-19 response fund will be used to get food and funds to local food banks across the U.S. Spiritú is donating 10% of all Shop sales to this initiative. Learn more here.
2. Freedom for Immigrants
Amid the global COVID-19 pandemic, Freedom for Immigrants has launched a series of tools that track U.S. Immigration and Customs Enforcement's (ICE) response to the virus and conditions within its jails and prisons. Advocates and loved ones of people in detention can call our COVID-19 Detention Hotline at 209-757-3733 to report instances of abuse. Spiritú and BuzzFeed's Pero Like are donating a portion of sales from our limited edition box to this organization. Learn more here. 
3. No Us Without You
No us without you is a charity fundraiser created to provide relief for families of back of the house kitchen support staff during COVID-19. Learn more here.
4.  Boys & Girls Clubs of America
Boys & Girls Clubs of America, in partnership the local Clubs, is building a national support strategy to continue to ready Clubs to serve local communities during this global COVID-19 pandemic – providing meals, programming, and support to those who need it most. Learn more here.
5. Justice for Migrant Women
An estimated two to three million farmworkers feed us through their labor, bringing fruits, vegetables and other crops to homes across the nation. As the country is learning, their work is critical, yet they and their work have not been properly valued. The COVID-19 pandemic is expanding into rural America, and these communities may be among the hardest hit due to their demographics and lack of resources. Justice for Migrant Women (J4MW) and other farmworker-serving partner organizations are raising funds to address the immediate needs of the farmworker community and mitigate the risks of the pandemic. Learn more here.
Share This Story
---