From the swimming pool, to the runway, to the cocina, Chef Tati Polo is a woman of many talents. Tati was born and raised in Venezuela. 


After settling in Los Angeles as a professional model, Tati decided to pursue her true passion, which has always been cooking, and received her Executive Chef degree from the prestigious Le Cordon Bleu program at the California School of Culinary Arts. After graduating with honors, Tati created her own brand and company called Forkplate Productions, offering catering and event planning, classes and much more. Most recently, Tati was a part of Lanzate on Univision and nominated for an Emmy Award with a segment "taco de ojo con Tati Polo" and Univision Radio, K-Love 107.5 with a segment entitled "Vive Mejor con Tati Polo." Tati can also be seen on her new upcoming project on YouTube, where she produces and hosts a show called: "SaladLand" with Tati Polo.
What inspired you to become a chef?
LOVE. After I moved to this country, I met my ex-husband. He was the photographer for a commercial campaign where I was working as a model. That was it. Love at first sight. We got married and I didn't even know how to boil an egg. So, I said, "I'm going to cook for him and I am going to do it well." All I know is that I fell in love with the kitchen, the ingredients, the aromas. I used to spend hours and hours creating my own dishes and cooking for him and our friends. I was addicted to the kitchen. At one of those dinners, everyone asked me if I'd open up my own restaurant. My response was, "Maybe not a restaurant just yet, but I will become a great chef."


It took me 3 tries to pass the admission test at Le Cordon Bleu because it was in English and I could barely speak the language back then ( BTW I think that is why my marriage was working, he would only speak English until I learned the language - lol). On my last chance to pass the admission test at Le Cordon Bleu, I DID IT and I had a great time!


Who would you say are some of your culinary influences?
To me it is sad to say it because we just lost him recently, but Anthony Bourdain had that perfect combination of art, food, and entertainment. He introduced us to many interesting chefs from around the world and we were able to observe and discover so many cultures and culinary influences through his shows.


What is one of your most memorable moments as a Chef?
When I got to cook for Sergio Mendes. I was working at Providence Kitchen at that time and I remember Michael Cimarusti walked into the kitchen and asked me if I knew Sergio Mendes. Of course, I did. He said, "You do, for real? You better because you are cooking for him tonight. I am going to bring him inside the kitchen after he is done to meet you." And that was the happiest moment - when he signed the back of a menu and walked in the kitchen to say THANK YOU to me.
What message would you give others who would like to follow in your culinary footsteps?
There are many ways to be involved in the culinary industry. Whether you decide to be a food stylist, have your own cooking show, or create food products - to me the importance of your decision should always be the purpose. For me, living with a deep purpose to help others through what you do is a gift. Yes, you have a gift! You just need to share it!
Share your favorite summer recipe with us!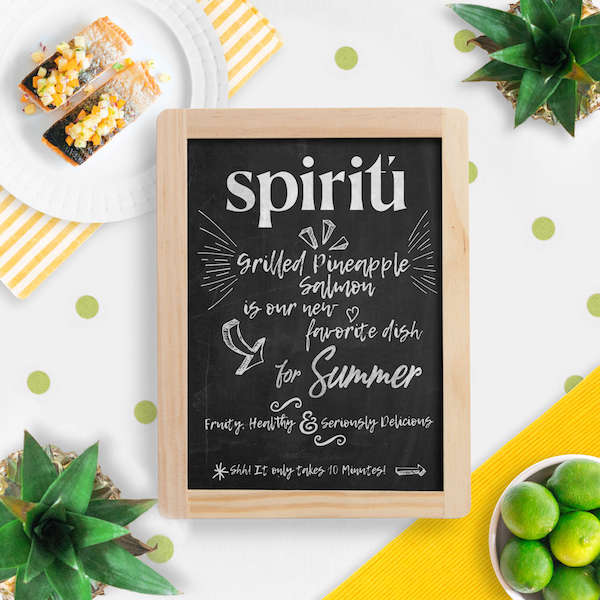 Grilled Pineapple Salmon (10 minutes!)
This quick, simply delicious, citrus-flavored, and perfectly crispy salmon recipe is the perfect weekday (or weekend) summer meal with just 10 minutes and love required.
SERVES: 4
PREP TIME: 10 MINS
INGREDIENTS:
4 6-oz. fresh skin-on salmon fillets
2 tbsp extra-virgin olive oil or avocado oil
2 tsp maple syrup, honey, or brown sugar
3 limes (juiced) (and 1 extra for serving)
1 1/2 cup pineapple, chopped
1 tsp freshly grated ginger
2 pinches smoked paprika
3/4 cup orange or red bell pepper
1/4 red onion (or 1 shallot), chopped
1 tbsp fresh dill (or cilantro), chopped
Sea salt & freshly ground black pepper to taste (taste as you go!)
DIRECTIONS:
In a large bowl, whisk together oil, juice of 2 limes, paprika, and maple syrup.
Place a grill pan over medium-high heat or preheat a gas or charcoal grill.
Brush the salmon with the mixture and season with salt and pepper.
Cook the salmon until barely cooked through and still pink inside, about 4 minutes per side.
Meanwhile, make pineapple salsa: In a medium bowl, combine pineapple, bell pepper, onion, ginger, remaining lime juice, favorite herb and season with salt and pepper.
Serve salmon warm with salsa and lime slices. Enjoy!
We Create + You Pair
Pair it with your dream salad, rice, roasted vegetables, quinoa, corn tortillas or your favorite pasta "al dente" for the ultimate meal.

When you try this recipe, let us know!
We always love to hear from our #Saladland super foodies. Leave a comment, ask questions, and most importantly don't forget to tag your photo #cheftatipolo #saladland on Instagram. Because "Una ensalada al dia, te cambiará la vida!"
THE SPIRITU 4
I NEVER LEAVE MY HOUSE WITHOUT MY:
I MOST OVERUSE THE WORD OR PHRASE:
THE PERSON I MOST ADMIRE IS:
HEAD, HEART, STOMACH, & FEET
CAN'T STOP THINKING ABOUT:
FAVORITE CHILDHOOD SNACK:
I'D WALK 5,000 MILES TO GET TO:
Tati prides herself on being a leader in the industry, and loves sharing her expertise with thousands of loyal followers on her social media platforms.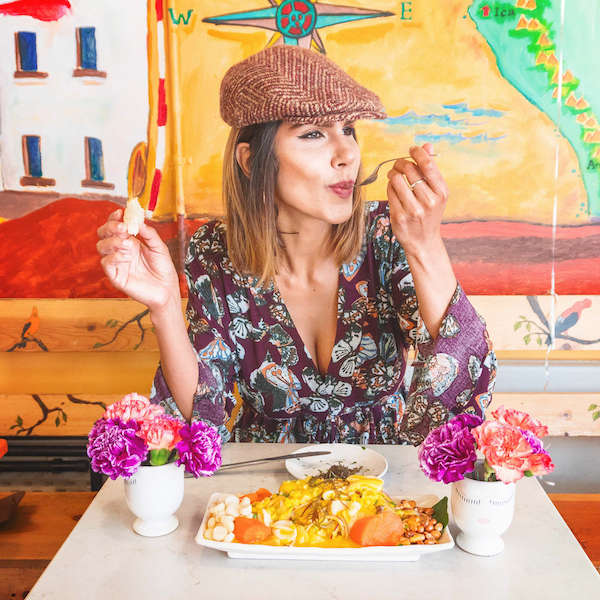 Share This Story