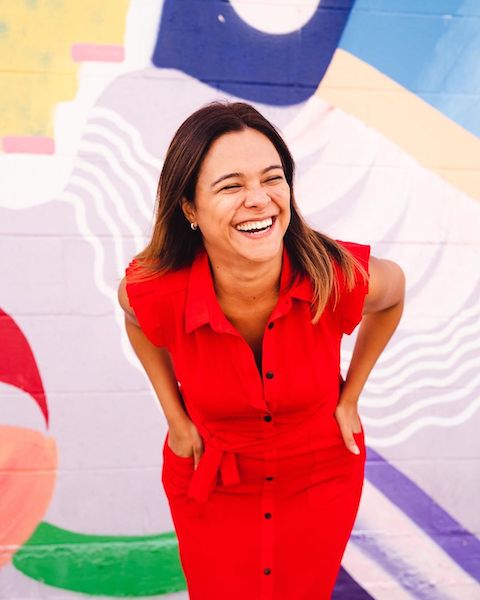 Carolina Arenas is a first-generation Colombian American, born and raised in Queens, NY. She has a Masters in Social work and a bachelor in Forensic Psychology. Her passion for social work was what inspired her to open: Meraki Wayuu, a brand of handmade artisanal bags and accessories, sourced from the Wayuu Tribe of La Guajira, Colombia. Carolina wants to raise multicultural awareness, promote social justice and cultural preservation through economic fair trade. Through Meraki Wayuu, she is able to empower Colombian women artisans to share their stories and traditions and give the community the opportunity to shop with a purpose. Spiritú is honored to feature their Pom Pom Keychains/Bag Charms in the our Winter 2019 Box.
Why is it so important for you to support women artisans in Colombia?
It is important for me to support artisans in Colombia because that is home, they are our ancestors. I want to keep their traditions alive, create a demand for their products, and bring their items to the hands of others. And, it's important for me to support women in general. When we all work together and lift each other up we are a lot more powerful.

How did this passion begin?
Growing up I always loved learning about other cultures, traveling and eating different types of food. I also loved helping people. I found out that I could do what I love most by being a social worker. After a trip I took to Colombia to visit my family I knew immediately that I wanted to incorporate my social work passion with that of being a female entrepreneur. I took the plunge and here I am.

What do you want our community to learn about the Wayuu culture?
Each Wayuu mother teaches her daughter how to weave and crochet, keeping the tradition alive. To the Wayuu, weaving is a symbol of wisdom, intelligence, and creativity. As young Wayuu women come of age, they learn to create Mochilas Wayuu bags. They even have a popular saying: "To be a woman is to know how to weave." Their techniques are passed from generation to generation of women, making it one of the primary traditional aspects of the tribe, included as a rite of passage. Mochilas and other woven creations have become a means of economical income for Wayuu women who sell them to tourists or people outside their tribe. The mochilas have raised awareness of the tribe, as well as the critical conditions they face.

Tell us more about the products featured in the Spiritú Winter Box!
Meraki Wayuu included large colorful handmade Pom Poms made from polyester yarn. These were all hand-knitted in Colombia by the indigenous Wayuu artisans of Rioacha, La Guajira, They can be used as handbag charms or key chains. I am proud to say that a total of 30 people were benefited by Spiritú's purchase.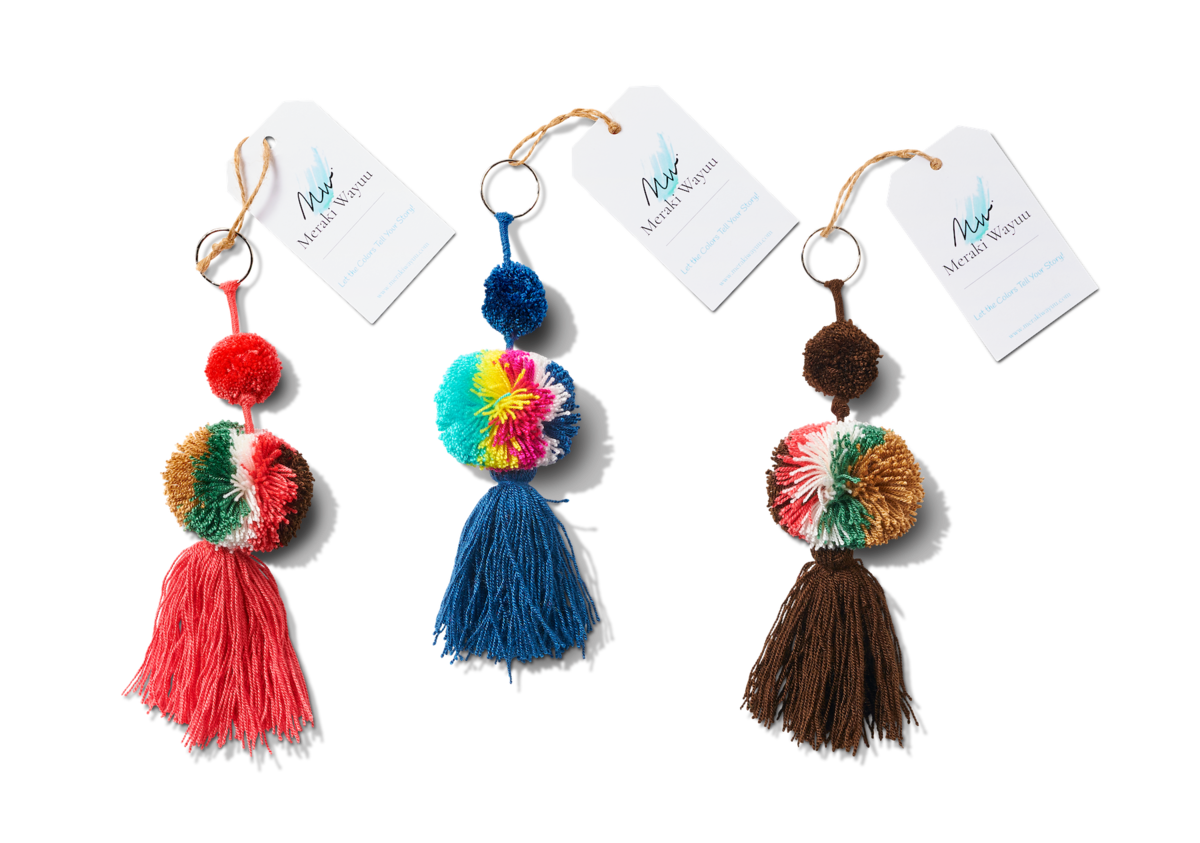 The Pom Pom Keychains featured in the Spiritú Winter 2019 Box.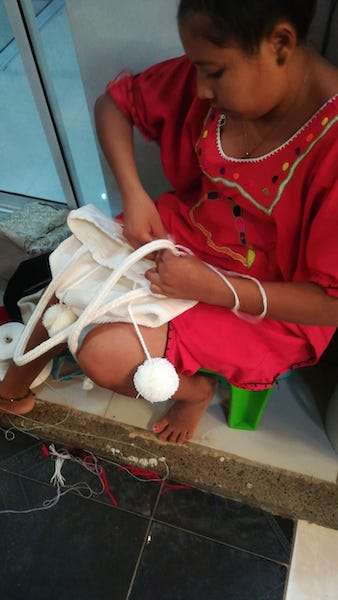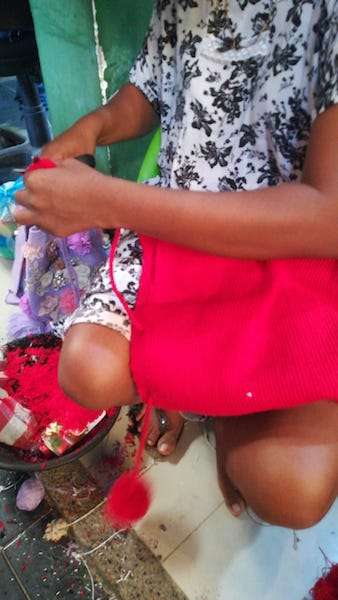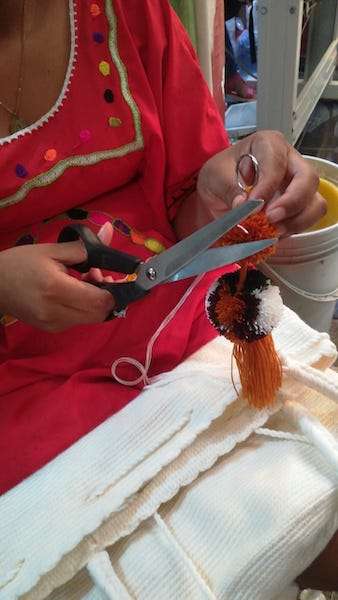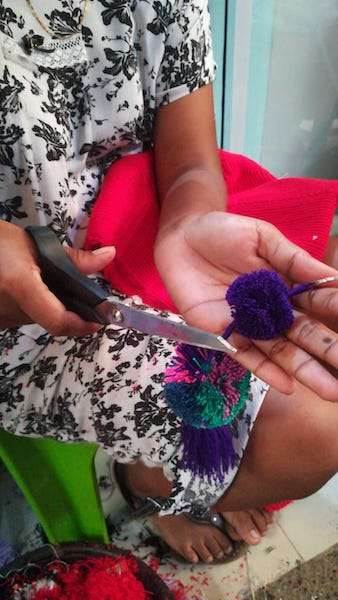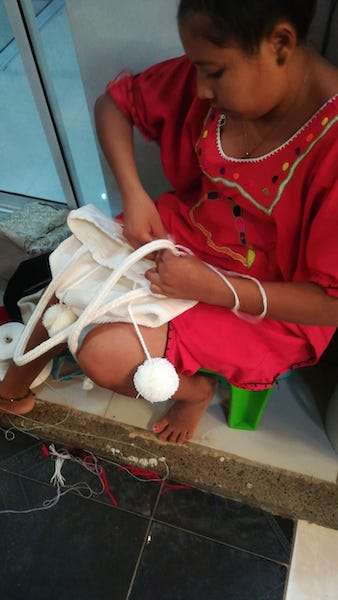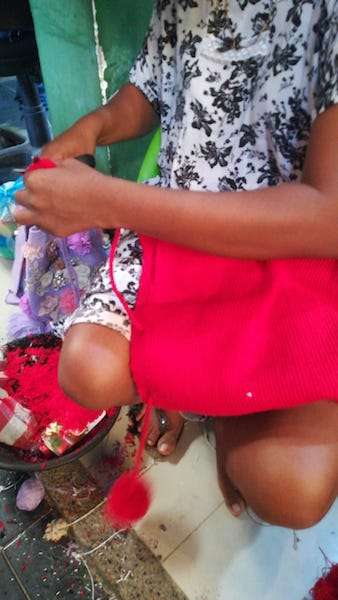 Scroll to see the Wayuu artisans hand crafting the Pom Poms.
THE SPIRITU 4
I NEVER LEAVE MY HOUSE WITHOUT MY:
I MOST OVERUSE THE WORD OR PHRASE:
THE PERSON I MOST ADMIRE IS:
My mom always but at the moment Alexandra Ocasio Cortez
Energetic, grateful, curious and loving
HEAD, HEART, STOMACH, & FEET
MY FAVORITE AFFIRMATION IS:
I AM CURRENTLY IN LOVE WITH:
My family and learning from other female business owners
Flan with a cup of coffee
Flats but if it's a must then I'll give in and heels it is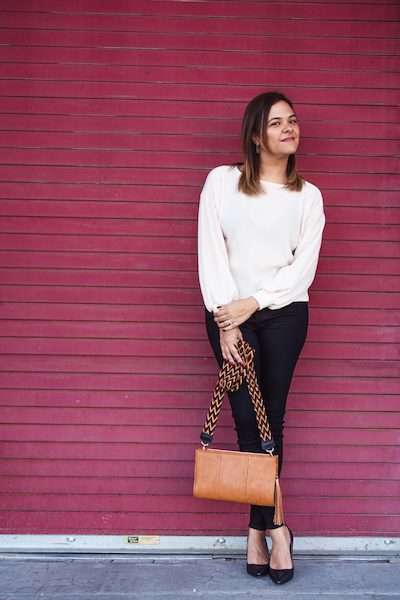 Share This Story