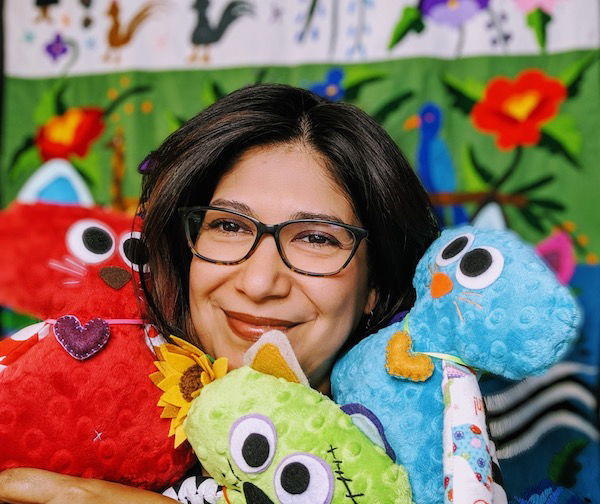 Mayra Azanza is an award-winning artist, Emmy-nominated TV producer and entrepreneur. She was born in Mexico and moved to Los Angeles where she worked as a journalist, sculptor, and TV producer. She recently moved to the Bay Area where she has introduced her own version of the Mexican folk art sculptures - Alebrijes and launched Chiquimiau, a startup for customized rag dolls, based on the craft of sewing her grandma taught her as a child in Guanajuato, Mexico.
1. Tell us about your latest art creation, Chiquimiau!
Do you remember your first toy? That one you held close to your heart and never let go?


As a mother, I have seen that every child has that one toy that is treasured as the most precious item, and yet, stuffed animals and toys are mass-produced with characters sponsored by big corporations, with nothing that actually represents the individuality of each baby, kid, or person.


The creative process of each Chiquimiau is that of a collective work of art: we provide you the canvas and the materials on our website, and you and your child choose how it looks in the end. We hand make it for you, and it will immediately become a special part of your life.
Chiquimiau is about defining your identity, being playful, being brave, being free-spirited and getting back in touch with your inner child. It's also my gift to moms: kids play for hours, without screen time.

It's fun to get to know about women across our community by exploring their must-haves and go-to's. So, here we go!

2. What are your Fall Essentials?
A cozy blanket
Good coffee
Nature
Sugar skulls everywhere
Knee high boots
3. Cozy Fall Reading Picks?
I'm such a nerd! Ok, here we go
You, Your Child and School by Sir Ken Robinson
My Own Words by the wonderful RBG
Pale Blue Dot by Carl Sagan
Becoming by Michelle Obama
The Godfather by Mario Puzo
4. A good Fall Road Trip?
San Francisco has everything: wonderful museums, beach and woods, rain, fog, art everywhere, excellent coffee, clam chowder… what else can you ask for?

5. How do you reset your energy for a new season?
I do a serious cleanup: from closets and storage to mind and spirit. Meditation, letting go of useless things: from that pile of old unopened mail to relationships that don't do any good to the soul.
THE SPIRITU 4
I NEVER LEAVE MY HOUSE WITHOUT MY:
I MOST OVERUSE THE WORD OR PHRASE:
THE PERSON I MOST ADMIRE IS:
HEAD, HEART, STOMACH, & FEET
Justice is a matter of perspective
Quesadillas. All. The. Time.
I'D WALK 5,000 MILES TO GET TO: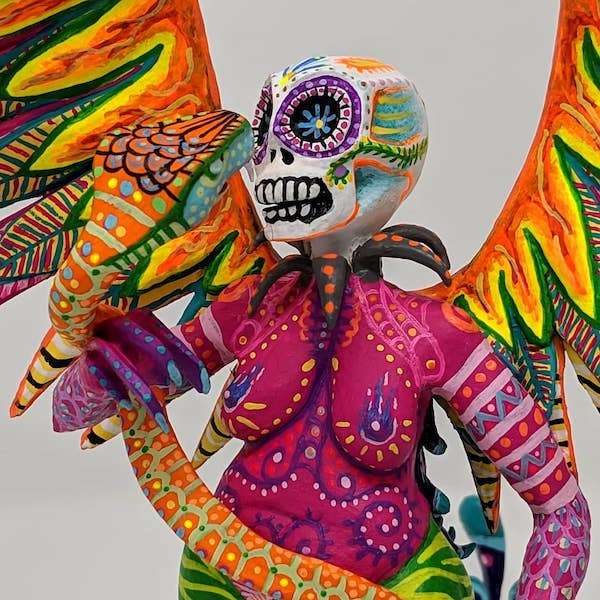 One of Mayra's beautiful pieces. Discover more on her Instagram page!
Share This Story