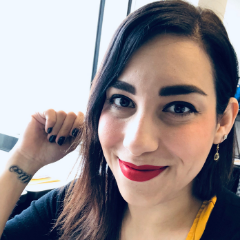 Clarissa Ayala is the Communications Director for Lone Star Legal Aid in Houston, Texas. Clarissa is LSLA's media contact as well as drafts and delivers news/press releases regarding various litigation & advocacy topics. Clarissa writes & publishes content for the company website and social media platforms.  She started her legal career at a boutique consumer litigation practice in 2006. She has a passion for serving underrepresented communities and believes in equal access to justice for all Americans.
When did your passion for writing begin?
When I was in high school.  I remember a poetry assignment where I wrote about my often strained relationship with my sister.  I remember my teacher being moved by it, emotionally. That is when I thought "I might actually be good at this."
Why is it so important for you to write about issues affecting your community?
When I graduated with a degree in literature, I thought I would be an English teacher because the idea of becoming a published author seemed far fetched. I worked at two law firms during college and was exposed to injustice daily. When given the opportunity to author the stories of our clients, the most marginalized and underserved populations in our society, I jumped on it.
Advocacy is giving a voice to the voiceless. The purpose of journalism is to provide citizens with the information they need to make the best possible decisions about their lives, their communities, their societies, and their governments. These stories are important so that justice can be served, awareness can be raised, and others similarly situated can seek help.
This year has certainly been challenging. What do you look to manifest?
Goodness.  I want to think positive and see the best in others. I want to set a good example for my daughters so they grow up with a desire to make the world a better place.
Who are three women who inspire you?
Karyna Lopez Blair. Karyna is one year older than me and a fierce tax attorney for low-income Texans.  She helps people being audited by the IRS.  Oftentimes, they are innocent spouses or victims of human trafficking. She is of both Cuban and Puerto Rican descent and is triple degreed. I've told her before, "I want my kids to be like you… educated and badass." Karyna is who inspired me to share my story with Spiritu.
Jai Collier. Jai is an attorney, a realtor, author, and publisher of children's books.  She is genuinely passionate about diversity and inclusion, not only in the workplace but in the world. She is also a supermom that has killer style. You can find her @thebirdhouselive.
Fallon Hamilton. Fallon is an attorney who handles civil matters in criminal justice. She helps clear records for people who are eligible, giving them the opportunity to find better jobs and housing.  Fallon is also a poet and author. In the last two years, she has published a book of poetry, made countless appearances, and was even one of the finalists for the Houston Public Library Foundation's Literary Award.  I've shared very private writings with her, to which she affirmed, "yes, Clarissa - that's a poem!"
What is the best part of being part of the Spiritú community?
Empowered women empower women. Access to stories of women from similar upbringings who are making a difference in the world makes me feel like I can do the same.  I love being able to share these stories with my 12 and 5-year-old daughters.  I'd like the words "I can do anything" engrained in their hearts.
Follow Clarissa at @paystree
The Spiritú Four
I never leave the house without my
Phone. It organizes my life.
I most overuse the phrase
Calmado venado.
The person I most admire is
The author, Sandra Cisneros. I wish I could write like her.
Share This Story
---