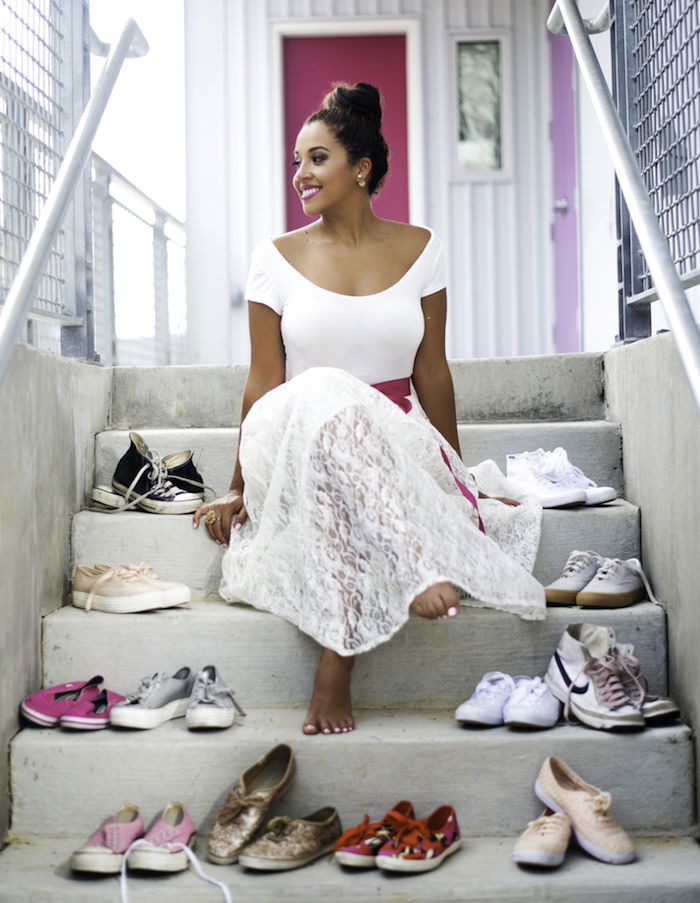 Stefani is that voice. As a recording artist, entrepreneur, podcaster, executive producer, TV host, shoe model, athlete, storyteller, and more, she has collected a treasure trove of valuable experiences and proved that life isn't about following a pre-set path, it's about diving headfirst into the unknown and blazing your own.
Learn more about Stefani below.
Tell us a little bit about your background.
I grew up humbly in Baytown, TX. My relentless drive comes from being raised by fierce Latina women, who taught me that a woman's voice is her strongest asset. By trusting this wisdom, I quickly learned that dedication and perseverance would create limitless opportunities. And when the world tried to tell me, "You can't do it all," I said "Watch me!"


My journey hasn't been easy, but it's always been worth it. As a confident leader and woman in control of my own destiny, I now turn my eyes toward giving back to a community that has given me so much.


With the "Follow My Feet" movement, I apply my powerful voice as a speaker, sharing my story with those who need an encouraging push toward finding their purpose and pursuing their passion in life.


When did you discover your VOICE was your most powerful asset?
In 8th grade, I found the courage to perform in front of the entire school for Cinco De Mayo. My Tio accompanied me with his guitar and I sang " Por Un Amor". Standing on that stage, embraced by my Tio's sweet strumming, I realized my love for performing. I found my voz, which gives me strength to follow my path


"Follow My Feet" movement is such a powerful way to empower other women. Why did you decide to create this movement?
"Follow My Feet " evolved into something more than just a cute hashtag for me. It's a motto that speaks to many. It comes from my desire for everyone to realize their potential. When I lost my grandma, I lost my voice. I realized that all of my creative endeavors lacked purpose. I dug deep to reacquaint myself with what gave me spiritu.

What that led to is listening and learning to a story of perseverance, struggle, sacrifice, and ultimately, acceptance. I reignited my passion for music and two new songs that, I hope, inspire and motivate others to do the same. Through music and story, I find purpose to inspire others to strengthen their voice
Tell us about one key moment where using your voice changed the course of your life.
I recently had the opportunity to speak at a local college. About a week afterward, the professor sent a paper written by one of the students in the audience, who wrote about how I inspired and motivated her to follow her dreams. I cried because I was grateful for the opportunity for my story to reach others. I decided that if I could help one person, I could help 100. I have made that my mission.
Any final words of inspo you'd like to share with our community?
Empowering and informing ourselves is easier today than ever before. Opportunity is mere clicks away. New connections are possible with just the tap of a finger. Regardless of who you are or where you come from, there has never been a better moment to reach out and seize a life that's unpredictable, challenging, and ultimately fulfilling.
Stefani shares some fun summertime inspo with us, including a must-have recipe below!
What's a simple summer recipe you love?
Casa De Vara Shrimp Cocktail
Ingredients:
2 lbs of shrimp
1 bottle of cocktail sauce
1 jar of Comida Caliente Salsa
1 small can of diced tomatoes
1 cup chopped cilantro
2 med jalapeno peppers
Salt and garlic powder to taste
Directions:
Boil shrimp with seasonings
Dice cilantro and jalapeños
Combine all ingredients in a large bowl and refrigerate for 1/2 hour
Serve with lime in a cocktail glass
Best 5 places to visit this summer in your city, Houston, Texas:
Downtown Houston Mural walls
James Turrell Skyspace
La Guadalupana Restaurant (best coffee and pastries)
The Guild (best vintage shopping)
MECA- Wonderful Cultural Arts Center in the First Ward
Your current summer playlist:
Lauren Daigle - "The Way"
Sam Smith - "Dancing with a Stranger"
Maluma - "Felices los 4"
Stefani Vara - "I Do IT All"
Dua Lipa - "Electricity"
Jesse & Joy / J. Balvin - "Manana Es Too Late"
Khalid - "Better"
SZA - "Just Us"
Shawn Mendez - "In My Blood"
SELENA - all of her classics
Your current summer reading list:
Sandra Cisneros, Caramelo
Paulo Coelho, Manuscript Found in Accra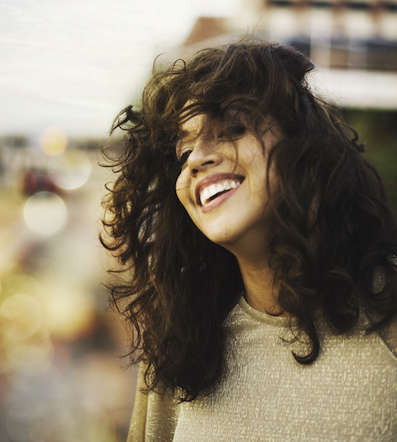 THE SPIRITU 4
I NEVER LEAVE MY HOUSE WITHOUT:
A beso from my husband and our perrito, Pablo, an Engish Bulldog
I MOST OVERUSE THE WORD OR PHRASE:
You are the creator of your own destiny
THE PERSON I MOST ADMIRE IS:
HEAD, HEART, STOMACH, & FEET
THE SONG STUCK IN MY HEAD IS:
"Get Up" by Stefani Vara :)
I'D WALK 5,000 MILES TO GET TO:
To get to see my grandma again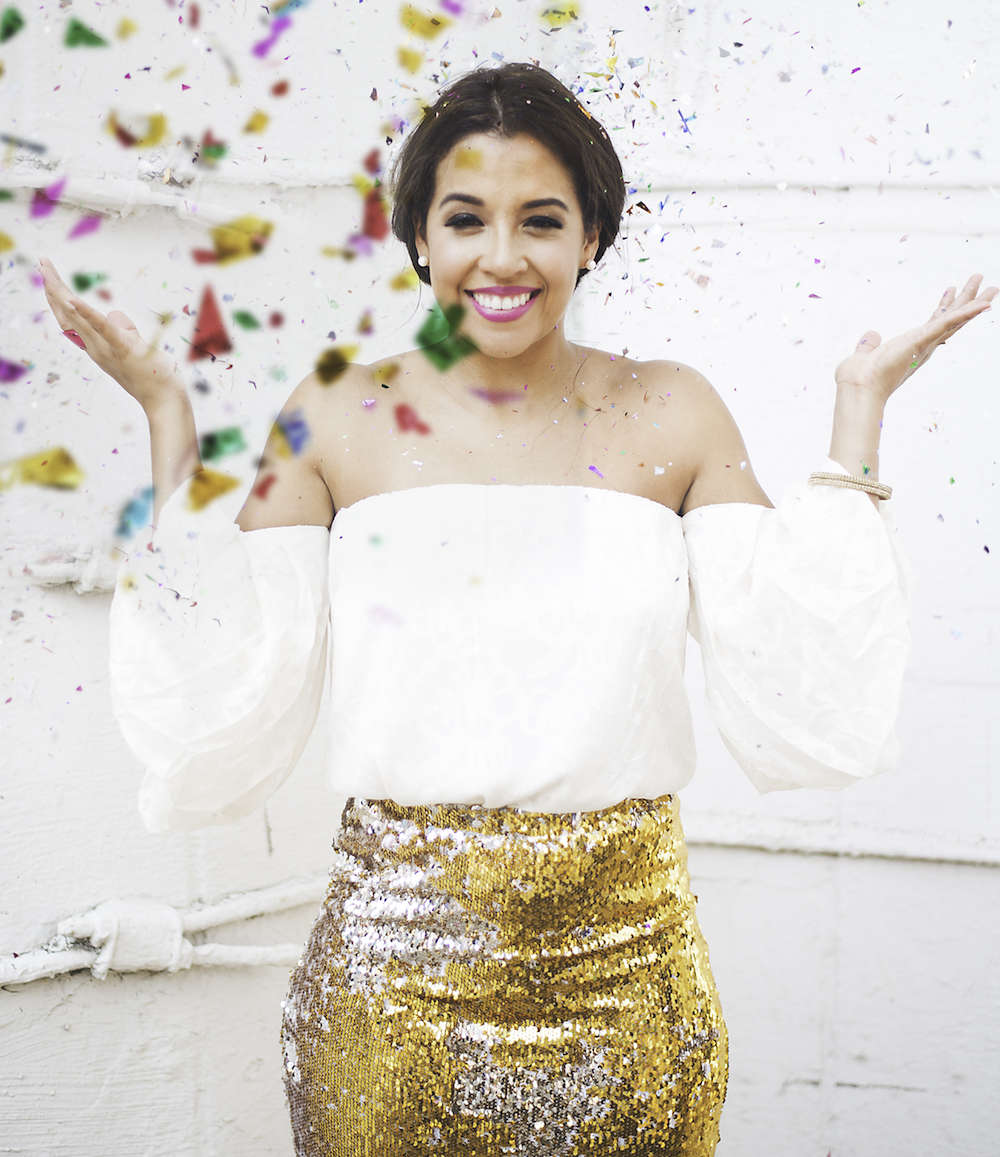 Share This Story