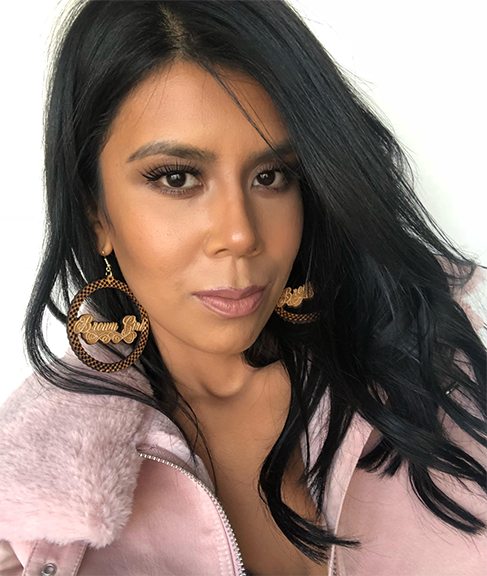 Tiffany Olvera, founder of Bodega18, was born and raised in Pilsen, Chicago.
Bodega18
is a self reflection of who she is and the many memories she's come to experience. Raised by a single mother, after the passing of her father when she was 11, Tiffany witnessed her mother's hardships living in a low income home with her two brothers. When her father was alive she witnessed the many ambitions he had and those passions carried on with her. As years went by, Tiffany would keep traces of those memories in memory and gift boxes she was given. In 2014, she began making them as a hobby and has now grown her collection line to accessories and apparel. You can find some of her collections online or in local Chicagoland area shops.
THE SPIRITU 4
I NEVER LEAVE THE HOUSE WITHOUT MY:
There's something I always forget
I MOST OVERUSE THE WORD OR PHRASE:
THE PEOPLE I MOST ADMIRE ARE:
HEAD, HEART, STOMACH, & FEET
MY FAVORITE AFFIRMATION IS:
"It's going to be okay, you will get through this I promise."
Some taquitos fritos de frijoles con limon and some Valentina
I'D WALK 5,000 MILES TO GET TO:
My family. My family over everything
Tell us about yourself. Where did you grow up?
I come from Pilsen, Chicago, a place I'll always call home. This is the place my parents, grandparents and maternal great grandparents also called home. My maternal grandparents left Monterrey, Nuevo Leon to pursue a better life. My great grandfather, Abuelito Crispin, a shoemaker, first arrived in California where he worked for Santa Fe. My paternal grandfather was born in San Luis Potosi and grandmother in Santiago Papasquiaro, Durango. Generations of my family flooded to the streets of Chicago to create new memories, and those memories will always be a piece of who I am. Although Pilsen has changed a lot throughout time, those streets will always hold the many memories of my family and where I came from.


How do you stay connected to these memories?
Memory boxes have always been a big part of my life. I was that little girl holding on to all the pictures and ticket stubs of places my family and friends would take me. Collecting those are still actually a part of me. Every now and then whenever I feel like revisiting the past, I go through my boxes full of treasures I've collected throughout the years. They're all stashed away for a rainy day. Looking at those memories are definitely an inspiration. The music, the places and people I've met are all things that bring out a lot of inspiration in my work.
How have these experiences shaped who you are today?
I am proud and blessed to be raised in a Mexican household where a lot of the traditions my grandparents were taught, were also carried and shared with my siblings and myself. My culture is definitely something that influences my work.
One day I want to do more than just have a business but have something I can offer those who still remain and share similar journeys, hoping I can inspire others to do the same. No matter where new doors open for me, I hope the life experiences and memories I've dealt with can only ensure a positive role in whatever I do and wherever I go.
Follow @bodega18 on Instagram and shop Tiffany's gorgeous products on
www.bodega18.com
.
Share This Story