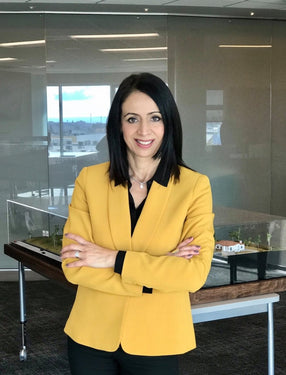 Karla Silva was born and raised in Mexico City. She moved to the US to continue her education, after graduating with a bachelor's degree in communication from the Universidad Iberoamericana in Mexico. After 20 years in marketing and advertising, Karla recently transitioned her career to finance and development. She is also passionate about empowering others and supporting community organizations.
Tell us more about your professional career.
My background is in media, visual communications, public relations, journalism, marketing, and business. My ability to develop long lasting relationships based on providing value and building trust has always been one of my strongest qualities.
For 20 years, I catered my design, marketing and advertisement expertise to clients in the music and entertainment industry such as, Univision, BMG, Sony Music, Fonovisa, Promoevents, among others.
Recently I transitioned into the finance and development industry, where I saw the growing need for housing and financial education. I am now an Investor Relations consultant for Strategic Legacy Investment Group, a private equity investment firm that focuses in acquisitions and commercial real estate development where I am bringing valuable partners and strategic alliances to the company.
When did you know it was time to make a career change and push yourself to learn something new?
When I realized that technology had created the tools and easy access for anyone to do design and photography work. The growing competition and affordability in equipment drove prices down and overhead forced me to lay off employees and go back to work from home.
When did you decide to take a new chance on yourself?
I kept looking for a sign. Fortunately I never stopped building business relationships and getting involved and supporting non-profit organizations. Three years ago I was introduced to an investment group that use commercial real estate as the main vehicle for investment. I knew nothing about development, cap rates and rates of return, but I was open to learn and saw the potential to make a good living and learn how to build wealth not only for me, but teach others how to put their money to work for them.
What advice do you have for someone who is afraid to reinvent herself?
The only thing constant is change and the ability to adapt to the new will determine our success. Always keep in mind that failure is an integral part of the journey to success. Falling will hurt, but as long as we have clear what our WHY is, it will help us stand up again and again, and will guide us towards our dreams. Follow your heart and give yourself the opportunity to try new things, experience new feelings, new places, new jobs and discover how much you can enjoy, learn and thrive. 
You're also very involved in the community!
I am passionate about empowering others and am an active member of multiple community groups and organizations such as, Mundo Maya Foundation, Alliance of Multicultural Entrepreneurs, Tierra Blanca Arts Center, Legacy Charitable Foundation, VIP Latina Business Council, Commercial Investment Property Pitch, US – Mexico Chamber of Commerce, National Latina Business Women Association-Los Angeles Chapter (NLBWA), Toastmasters International, among others.
As a mother of 2, my children are the main reason I continue supporting and promoting organizations that are making a difference. 
We know how much you love people and supporting Latinx entrepreneurs and artists. Please share Latinx companies and entrepreneurs you love and why.
I admire many companies based in LA: New American Funding, Alta Med, Portos Bakery, Mitú. But I have always been drawn to support the underdogs, people who are passionate about making this world a better place through promoting values, culture, art, wellness and education. Here are some of my favorites:
Mundo Maya Foundation a non-profit organization whose founder is unstoppable in the pursuit to preserve and promote our heritage through education, culture and art.
Tierra Blanca Arts Center, another organization with over two decades of teaching folklore, music, dance, values and Spanish language to latin children. Promoting theatre with positive content and unity among the multiple cultures living in LA.
Alegria Magazine, I fell in love with the way the magazine featured Latinos, the articles and stories that inspired. I identified with the entrepreneurs, brands, products and events that had the opportunity to meet through the pages, but also at the multiple events that the magazine produced. It's been magical to see the Alegria familia grow through 8 years. I remember searching for "my tribe" for many years and the relationships and friendships that I've been able to build through the years are priceless.  
Tenoch Arte - Noches de Trova For over 20 years Esteban Leon and Violeta Pineda bring together trovadores, poets, writers and once a month serenade us with songs with beautiful and strong messages.
Follow Karla at @karlasilvapr
Share This Story
---