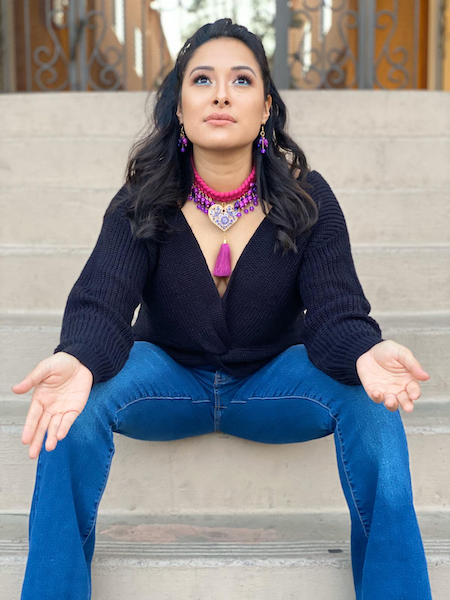 Maydelli Mendoza was born in Cuidad de Mexico to parents who immigrated to the US when she was only 6 months old. Thru her veins runs indigenous blood from LA Sierra de Juarez, Oaxaca. Maydelli is the creator of Revolution Through Self Love. Her mission is to help individuals find their true life purpose while healing from within and finding their way back to self-love through six pillars of self-love and high vibration. As a conscious entrepreneur, Maydelli is also the founder of vegan catering company, RawLove by May, and a line of zero waste kits.
How did your journey begin as a conscious entrepreneur?
Living more than three decades as an undocumented person made me become a bit frustrated with the fact that I could never do things I always dreamed about, one of which was to become the first woman Latina President. As the political climate continue to worsen, my desire to find a permanent solution for undocumented people in the United States grew stronger. I wanted to find a way to inspire, transform and motivate people to pursue their dreams by sharing my own story - not one of defeat or sorrow, but one of triumph. I wanted to contribute and stop having this feeling of hopelessness that invaded me every time I saw something negative in regards to immigration. I grew up having many little business ventures, but it was not until 2017 where the fire that lived inside of me couldn't be contained any longer that I decided to become a conscious entrepreneur. I want to change the world and spread love, healing and kindness with my entrepreneurship journey.

We love that you share via your social media platforms about overcoming great challenges and turning them into strengths. What are 5 things you have learned from your own healing process?
1. There will always be difficult moments and times of great challenge, but those moments are opportunities for growth. It is when you give yourself that opportunity to move past the fear and pain that change occurs.

2. You are never alone, even if you think you are. You must always remember you are always divinely guided in all you do and when you need help, the only thing you need to do is ASK. Leave pride or shame aside for having to ask.

3. Forgiveness​ liberates the pain that lives inside of you.
4. Love​ is the antidote to everything.
5. Kindness ​can heal humanity

We love your passion for creating sustainable products like your dinning ware and drinking eco-conscious set! How was this idea born?
My zero waste kits were born out of my desire to help save the turtles and the planet. Yes, I believe we can send a powerful message to humanity that collectively we can create social change one straw at a time!
I wanted to create a product that could save the planet, raise awareness, and create a job for many. The avocado design was exclusively designed for my company,
@rawlovebymay
, by a local California artist
@crystal_domi
. I wanted a fabric that represented who I am and what I stand for. The word love was incorporated as well as an avocado and a heart in the middle. The avocado represents California and my love for avocado toast!
What are you excited to share with your audience this 2020 via your platforms?
In 2020, I have decided to focus on decoding the wisdom that we have encoded in our DNA, as well as to help heal inherited family trauma, and break old patterns of behavior that have been programed into our subconscious for years, even generations. I will also continue to raise awareness about the importance of love - love for our body, health, humanity, our planet, and everything around us.
THE SPIRITU 4
I NEVER LEAVE MY HOUSE WITHOUT MY:
I MOST OVERUSE THE WORD OR PHRASE:
THE PERSON I MOST ADMIRE IS:
HEAD, HEART, STOMACH, & FEET
MY FAVORITE AFFIRMATION IS:
"I am a powerful force of love and freedom, inspiring greatness
within myself and others." - Garrett Jones
I'D WALK 5000 MILES TO GET TO: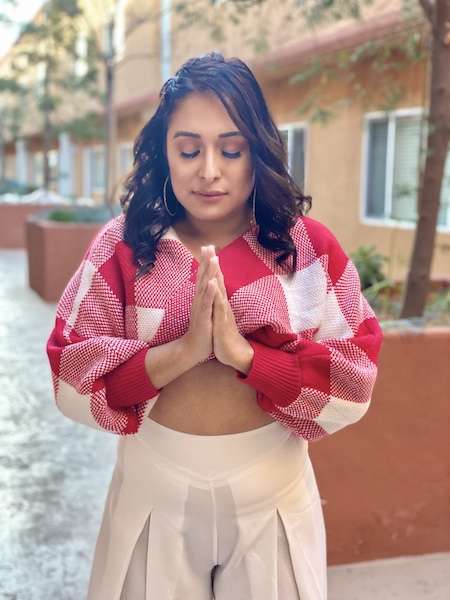 Share This Story