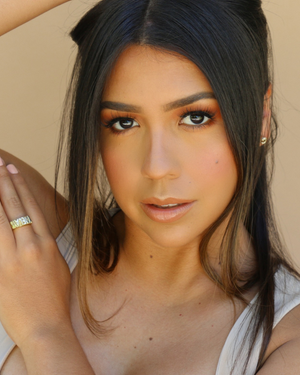 Ydelays was born in a small town in Venezuela, and nurtured a dream to one day inspire girls and women around the world to feel capable, beautiful, and powerful. She built a career connecting with beauty lovers everywhere in an authentic, honest way, always keeping her roots at the heart of her work. 
Last year her community followed her journey as Ydelays gave birth to her two babies; Matias, her beautiful, boisterous, joyful son, and Golden Dream Beauty, her new company aspiring to empower women to feel their most beautiful. Ydelays took a leap of faith and self-funded her company while becoming a new mom, and she's grateful to share this journey with you.
Tell us about Golden Dream Beauty.
At Golden Dream Beauty, we work tirelessly to create conscious, high-end, accessible products that unleash the most confident version of you, whether it be our vegan, cruelty-free lashes, our upcoming collections. We believe you have what it takes to go after your dreams, whether it be a bold new career move, your own love story, or manifesting personal affirmations; I promise you, you are enough.   
What was your inspiration to create Golden Dream Beauty?
For me, beauty is to believe in the power of dreams. It's about feeling confident and capable. As a Latina brand owner, I wanted to create something positive and inspire my community by bringing sustainable beauty products, which would also show the world a Latinx-owned makeup company can also have a set of values and love, which I feel is what represents us the best
Just as the name reads, this brand is on a mission to inspire and motivate you to reach your dreams, while living and looking unapologetically good.
As a Venezuelan native and US immigrant, I feel that I am an example of living up to my dreams, leading me to finally launch a line that I believes will inspire my community to push forward.
Our first launch is a collection of four eyelashes that are completely cruelty-free, vegan, and are reusable. They come in four styles: Divina, Dama, Hottie, and Oh Baby.
You have a very inspiring story of how you began your career as a YouTuber/ vlogger in Los Angeles! When was the moment that you realized you wanted to this to be more than a hobby?
I was born and raised in Guatire, Venezuela. I started my YouTube channel 6 years ago after I moved to Los Angeles, CA. I felt so far from my family and I decided to make videos for my sister and my mom to watch. I never thought it was going to turn into something that would change my life. After I started seeing people I didn't know and how supportive and sweet they were I couldn't stop!
And here I am 6 years later! I still get nervous every time I make a post goes live! I love this community that feels like family to me. I love to inspire them and them have inspired me so MUCH!
What advice do you give to all the female entrepreneurs out there who are looking to start their own business and/or brand?
Be true to yourself, do something related to your passion. Do something that you would enjoy doing even if money doesn't come right way, and be patience.
I believe that good things take time. Be ready to not give up when things get hard. Being a truly entrepreneur for me means to turn the hardest challenges into the most beautiful victories.
You got this! You can do it! I believe in you.
Follow at @ydelays and @goldendreambeauty 
Share This Story
---