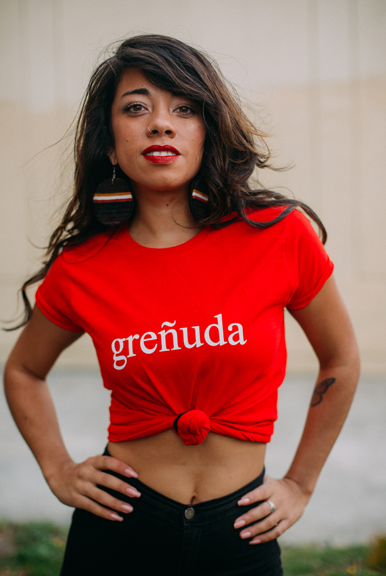 Kim Guerra is an artist, writer, and entrepreneur. She is the creator of
Brown Badass Bonita
, a brand and movement she considers a revolutionary act of self love and love for our Latinx community. She wants people to wear her shirts as a statement and shield. She wants people to feel like a walking and living revolution when they wear a Brown Badass Bonita tee. She creates apparel that celebrates our culture and empowers mujeres. She also writes pieces and creates art that celebrate and explore the complexities of being a Latinx, mujer, PoC, survivor, and guerrera. She considers her art and work to be responsibility to her community of Latinx and mujeres.
THE SPIRITU 4
I NEVER LEAVE THE HOUSE WITHOUT MY:
Butterfly sculpture my brother gave me
I MOST OVERUSE THE WORD OR PHRASE:
THE PEOPLE I MOST ADMIRE ARE:
Frida, my mami, mi tita, and my best friend
HEAD, HEART, STOMACH, & FEET
THE SONG STUCK IN MY HEAD IS:
"I Like It" by Cardi B, Bad Bunny, and J Balvin
FAVORITE CHILDHOOD SNACK:
I'D WALK 5,000 MILES TO GET TO:
What achievements are you most proud of? Who helped you along the way?
I am most proud of myself for starting my own business, and being the first in my family to graduate high school and college. My parents have been important parts of shaping who I am. They are both people who have overcome a lot and have had faith to keep rising over and over again.

What inspires you as you grow your amazing brand and movement, Brown Badass Bonita?
My cultura, the Spirit, arte, el sol, la playa, mi familia, Frida Kahlo, Sandra Cisneros, mi mami, the mujeres who have stood by me, and mujeres empoderadas.
Did you always know you wanted to create Brown Badass Bonita or did you think your life would be different?

My life is different than I imagined in every way. I thought I would still be married, with kids, maybe even a stay at home mom. I am so glad that is not the case. I am honored to be blossoming in who I am as a womxn, writer, artist, creator. I feel this is just the beginning! I would like those other things in the future, but now is my time to fly!
What is one of the biggest life challenges you have faced? How did you overcome it?

I've overcome various forms of abuse in my life and in relationships. The loneliest period of my life has been the last four to five years that I've lived in Seattle away from my family and in an unhealthy marriage. I was able to leave the marriage and rebuild myself. Now, I love and honor my solitude - it is a privilege. I overcame all of this by being intentional about loving myself and healing through therapy.
I also am grateful because in every season of my life, I've had at least one woman take me under her wings. Their kindness got me through a lot.
What did you take away from these experiences?

The most important truth in my life is that I was brought to this world with a purpose: to love and be loved. I have learned love from God. I am learning to love myself and because of that self love, I can love others. This is what I want to continue to dedicate my life to: loving and being loved — no exceptions.
How would you like to be remembered?

As a badass mujer who lived her life fully and courageously. A mujer who fought and brought healing to her community. A mujer who loved God, herself, and people well.
Shop Kim's line Brown Badass Bonita at
https://www.etsy.com/shop/brownbadassbonita
.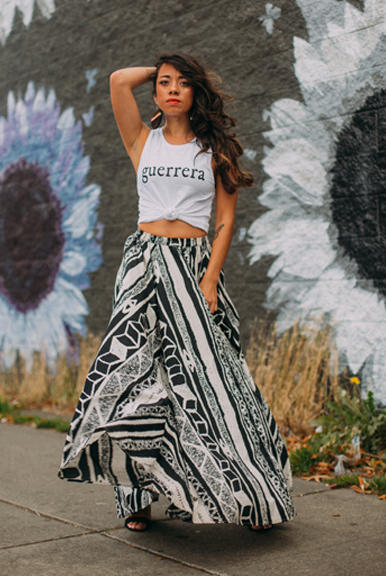 Share This Story