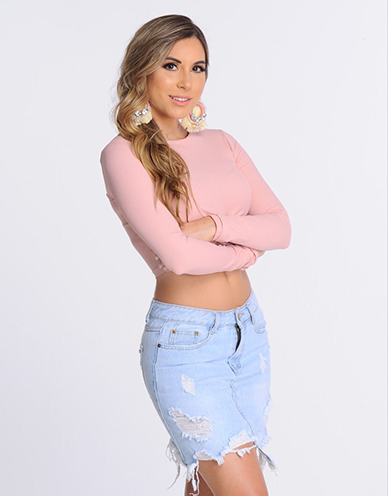 Alexandra Olavarria has had a passion for music and entertainment since childhood, participating in all the musical and theater acts at her school in Margarita Island, Venezuela. At the age of 16 she moved to the U.S. and rose to the top of her class allowing her to win two scholarships to attend Florida Atlantic University. While in college, she was chosen by the university to participate in a series of conferences and conventions with the participation of speakers such as Madeline Albright and Bill Gates, among others. Today, Alexandra is a TV Host and Influencer in Miami with more than one million followers on social media as well as being the host of her own beauty and lifestyle segment on the #1 US Hispanic Morning Show, "Un Nuevo Día" on the Telemundo NBC Network.
THE SPIRITU 4
I NEVER LEAVE THE HOUSE WITHOUT MY:
Cellphone and a bottle of water.
I MOST OVERUSE THE WORD OR PHRASE:
Gordito. That's what I call my husband.
THE PERSON I MOST ADMIRE IS:
Be Original, Authentic, Independent, Free, An Adventurer, Hard Worker and Persistent.
HEAD, HEART, STOMACH, & FEET
CAN'T STOP THINKING ABOUT:
My husband, dog, family, travel and my job.
Empanadas from Margarita Island.
What do you wish contribute to the world through what you do?
I wish to inspire other women to believe in themselves, in their dreams and motivate them to be the best version of themselves. I also want to spread love and help people that need support to see the positive side of any situation.
Who has helped you grow in your life and career?
I've had different women contribute to my growth at different moments. They've helped and believed in me and I'm thankful for that because we need more women who support each other every day selflessly and without envy.
Do you have any wisdom you can share with young entrepreneurs as they begin their journey?
Work hard, be persistent, be a fighter and do not be afraid of failing. The important thing is to get up and knock on 100 doors to find the one that opens. Work in good faith and with love and the most important one for me is to trust in God. Sometimes we want something but God has a better plan for us. Work for what you want to make it happen! Things don't fall from the sky, you have to work until you achieve your goals because she who perseveres, wins.


March is Women's History Month, and this year's theme is "Visionary Women: Champions of Peace & Nonviolence." What are you personally doing to cultivate peace?

In order to be champions of peace, we definitely have to start with ourselves and be more loving and understanding and less violent. I try to always give more love and constantly try to become a better version of myself.


Name a woman that inspires you.

It is hard to mention just one, because there are so many I identify with as a result of their hard work and their support for other women and the community. We really need more women that gather and support each other. United as one we are much stronger.
Follow Alexandra on Instagram
@alexaolavarria
.
Share This Story