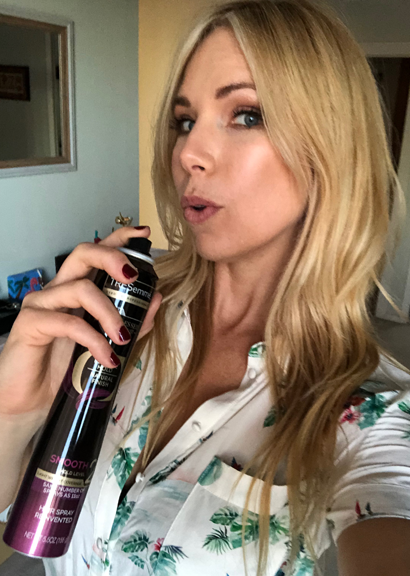 If you're like me, finding a great hair spray that holds and also leaves your hair bouncy and natural without all that stiffness is hard. Really hard. Enter TRESemmé's line of Compressed Micro Mist to save the day. This latest, award-winning technology in Compressed Micro Mist is totally game changing.
My life takes me to cover some of the coolest red carpets and music moments, and my signature 'do is a rock n' roll style look. The hair spray is superfine and light, unlike some of those sticky, heavy hair sprays, but it manages to hold my style without weighing my super fine hair down. And, what's really cool about this line is that in addition to the cans looking sleek they're also providing the same great performance as the 11 oz cans while using 50% less gas.
So, I can get my go-to messy rock n' roll look while using a product that's better for the environment. . . win!
TRESemmé's Compressed Micro Mist Hair Spray™ comes in hold levels 1, 2, and 3. The Level 2 Hold is currently featured in the Spiritú Winter Box. Learn more at
www.tresemme.com
.
Share This Story