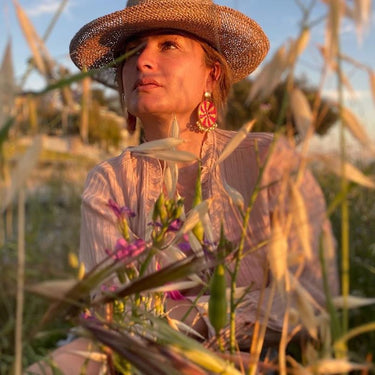 Especially in times of great stress, there's nothing more important than a daily dose of self-care. Whether it's pausing to take 3 deep breaths, a 30-minute nap, doing some cardio, or pampering yourself with your favorite products, taking care of yourself is so important.
Here are the top 10 self-care products we love right now.
1. Sanara Skincare Tranquila Collection Sample Pack - $20
Indulge in Sanara's Bamboo Fiber and Mango Seed Body Polish, Chilean Rosehip Seed Body Oil, Cupuaçu Seed Body Butter with Aloe and Vitamin E, and Yerba Maté Bath Soak with Aloe and Jojoba oil. Shop here.
2. ALEGRIA Bhakti Candle - $30
This candle has a soothing combination of Jasmine and Vanilla perfect for your sacred spaces. Shop here.
3. Spiritú Cooling Anti-Stress Essential Oil Roll-On - $20
De-stress with the soothing effects of lavender combined with cooling peppermint and eucalyptus. Simply apply as desired to your temples, neck, shoulders, and hairline for a cooling and calming effect. Perfect on your nightstand or in your purse for that little dose of relaxation. 
4. Wise Roots Living Diosa Rituals Face Wash - $34
This face wash prepares your skin for any face care regimen with a balancing blend of hydrating Avocado oil, natural Almond Castile Soap, healing Honey, aromatic Lavender, rejuvenating Patchouli, and antimicrobial Tea Tree gently cleanses impurities without drying or dehydrating the skin. Shop here.
5. Bodyography Instant Lift Eye Mask - $23
We fell in love with these eye masks when we featured them in our Spring 2019 boxes. These individually wrapped, saturated sheet masks come in sets of 3 and make the perfect pre-event or post-event pick me up, giving you an instantly brighter, more youthful appearance. Shop here.
6. Spiritú Home Reed Diffuser - $40
This reed diffuser will fill any room with a calming, sensual blend of romantic amber tempered by the creamy warmth of smooth vanilla, rich sandalwood, and naturally sweet black cherries. Shop here.
7. Sage Sticks by The Pink Crow - from $8
The Pink Crow founder Lidia Galvez infuses her spiritual healing background into her bespoke reiki-infused products. Her sage sticks contain ethically sourced ingredients, and each bundle is intentionally curated. Shop here.
8. Rizos Curls Refresh & Detangle Spray - $19.99
Your hair needs some love too! That's why we love this spray, with natural key ingredients like coconut oil, avocado oil, and shea butter. It's also perfect for freshly washed hair or to refresh your curls in between washes. Shop here.
9. Ari Rose Luxurious Skin Frosting - $28.99
Ari Rose Signature Whipped Skin Frosting is freshly made in small batches. This frosting melts with the warmth of your skin's touch and is perfect for hydrating, repairing, and nourishing your skin. Shop here. 
10. Care Skincare Eye + Lip Nourishing Cream - $30
We're no strangers to the amazingness of Care's products, after featuring their sample skincare pack in our Winter 2019 Box. This rich, peptide-packed cream reduces the appearance of fine lines and includes ingredients like Hyaluronic Acid to deliver deep hydration and caffeine to diminish under-eye puffiness and dark circles. Cushiony in texture, this dense cream absorbs quickly and stays put-no drifting into eyes or interfering with makeup. Shop here.
Share This Story
---